AdEPT Technology: Dividend Announcement
AdEPT (AIM: ADT), one of the UK's leading independent providers of managed services for IT, unified communications, connectivity, voice and cloud services, announced in its final results for the year ended 31 March 2019 on 9 July 2019, a proposed final dividend of 4.90 pence per share for which the key dates are as follows:
Ex-dividend date 26 September 2019
Record date 27 September 2019
Payment date 8 October 2019
The final dividend is subject to shareholder approval which will be sought at the Company's annual general meeting.
Total dividends proposed for the year of 9.80 pence per share represents an increase of 12% over the prior period (2018: 8.75p).
AdEPT Technology Video – An Overview For Investors
For the past 5 years AdEPT's strategy has been to take advantage of converging telecoms and IT Markets; transforming from a connectivity business to a provider of wide-ranging IT and telecoms services, ADT now provides unified communications (i.e. linking all your devices together), large-scale wifi, internal and external IT support and cloud services, and storage. To give an idea of their storage capabilities, they back up around 7 times the volume of data stored by facebook.
AdEPT has over 15,000 clients. These range from well known names such as Coca-Cola and Citrix to public sector departments such as the cabinet office. The firm is one of the key providers in the education sector, serving 3,000 schools and 20 universities. Its growth has been a mixture of organic and acquisitive, with a focus on companies with diverse client bases. ADT generally avoid companies which are over-reliant on a small number of key customers.
AdEPT is one of three companies on AIM to have consecutively grown its earnings per share (EPS) for the last 10 years. The others to do this are iomart (seen on Five Minute Pitch here) and Churchill China PLC. AdEPT also has a history of consistently growing EBITDA and underlying profits.
Investor Meetings and Roadshows
As with all companies on Five Minute Pitch TV, we organise nationwide investor roadshows for AdEPT Technology Group. We will be visiting all major UK cities with AdEPT. Professional investors wishing to attend can e-mail Nick Peters at nickp@fmp-ir.co.uk
AdEPT Technology Investor Videos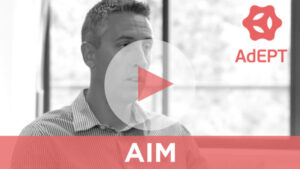 Click here to view LON: ADT Investor Relations Videos