AdEPT Technology: Final Results
AdEPT (AIM: ADT), a leading UK independent provider of award-winning managed services for IT, unified communications, connectivity and voice solutions, announces its results for the year ended 31 March 2019.
Financial highlights
Revenue increased by 11% to £51.3m (2018: £46.4m)
Gross margin % increased to 49.4% (2018: 47.7%)**
Underlying EBITDA increased by 11% to £10.8m (2018: £9.8m)***
Underlying EBITDA margin % of 21.0% (2018: 21.0%)
6% increase to adjusted fully diluted earnings per share to 29.8p (2018: 28.1p)
12% increase to dividends declared to 9.80p (Interim 4.90p, Final 4.90p) (2018: 8.75p)
Year-end net senior debt of £27.1m (2018: £17.6m)*
Capital expenditure 1% of revenue (2018: 1%)
Operational highlights
Managed services accounted for 75% of total revenue (2018: 70%)
Acquisition of entire issued share capital of Shift F7 Group Limited completed in August 2018
Acquisition of entire issued share capital of ETS Communications Holdings Limited in November 2018
* Net senior debt is defined as cash and cash equivalents less short-term and long-term bank borrowings and prepaid bank fees
** 2018 comparative after excluding £0.76m Openreach compensation credits
*** Defined as operating profit after adding back depreciation, amortisation, acquisition fees, restructuring costs, adjustment to deferred consideration and share-based payment charges
Commenting upon these results Chairman Ian Fishwick said:
"AdEPT has delivered an 11% increase to revenue, gross profit and underlying EBITDA for the year ended 31 March 2019. The highly cash generative business model of the Group, with 79% of pre-tax cash flow conversion from reported EBITDA, has funded a 12% increase to dividends declared during the year and the Board is confident that continued focus on underlying profitability and cash generation will support a progressive dividend policy. The Group continues to operate a capital light asset model, with only 1% of revenue strategically invested in the capital development of the AdEPT Nebula proposition during the year, which has extended the AdEPT Nebula product portfolio to incorporate IP cloud telephony services, hosted IT services and a range of data connectivity services.
Free cash flow generated combined with the extension of the debt facility during the year was used by the Company to complete the earnings enhancing acquisitions of Shift F7 Group Limited and ETS Communications Limited. The acquisitions completed during the year combined with organic sales have increased the proportion of Group revenue derived from managed services accounting for 75% of the total in the year ended 31 March 2019."
Adept Technology Investor Videos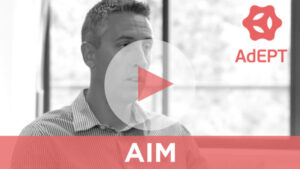 Click here to view LON: ADT Investor Relations Videos