Emmerson: Appointment of Process Design Engineers
Emmerson Plc ("Emmerson" or "the Company"), which is focused on developing the low cost, high margin Khemisset Potash Project, is pleased to announce it has appointed Barr Engineering Co. ("Barr") as Process Design Engineers for the ongoing Feasibility Study.
Overview
Barr appointed to deliver all process plant components of Feasibility Study, with results anticipated to be announced first half of 2020
Barr to work closely with previously appointed Feasibility Study manager, Golder Associates (see announcement dated 7 May 2019)
Process design to incorporate results of ongoing metallurgical testing; results of which anticipated in Q3 2019
Barr have been appointed following a rigorous tendering process from a field of highly experienced international consultants
Hayden Locke, CEO of Emmerson, commented:
"We are delighted to confirm the appointment of a firm with the credibility and expertise of Barr Engineering. Their wealth of experience in all types of mineral processing, and especially in potash, will add considerable value to the process which we are rapidly advancing.
"With the appointment of Barr, and the previous appointment of Golder Associates, we now have our two major consultant engineering groups working towards delivering a Feasibility Study in the first half of 2020. We will continue to keep the market informed on all workstreams within the Feasibility Study, and ultimately look forward to delivering an outstanding endorsement of the Khemisset Project."
About Barr
Barr is a leading US based engineering consulting services company with considerable international experience. Supported by a team of over 800 engineers, scientists, and technical specialists, Barr specialises in the development, management and operatorship of global natural resources project to a high standard.
Barr has significant experience in all facets of process design, including process evaluation and design, modelling, optimisation and feasibility. With decades of experience in potash and other evaporites, including in multiple process methodologies such as crystallisation, Barr are ideally placed to carry out Process Design Engineering on the Khemisset Project.
Further Information
The Company is developing the low capital cost, high margin, Khemisset Potash Project, located in northern Morocco. Khemisset is forecast to produce c.800,000 metric tonnes of K60 MOP per annum over a minimum mine life of 20 years, in addition to producing more than 4.6 million tonnes of waste salt per year of operation.
Based on preliminary studies, the Khemisset plant will produce a relatively fine salt by-product with purity in excess of 95% NaCl. This purity is saleable into the US de-icing market without requiring any further product upgrading or processing, positively impacting operating costs and margins. Compaction is expected to be required due to the fine nature of the salt waste produced and the strict sizing requirements for sales in the US market.
Salt is handled and shipped using the same infrastructure as potash, so synergies are expected to be available and captured by handling two bulk products. In addition, Morocco already exports approximately 1 million tonnes of rock salt to the US de-icing salt market per annum shipped out of both the Port of Mohammedia and the Port of Casablanca. The Company will benefit from existing storage and expertise in handling in these ports. The in-land logistics model comprises of trucking to closest railway siding in Meknes then loading into trains to take the product to Casablanca port which is connected via railway. Casablanca is a significant port with capability for large, deep draft, vessels which reduces overall delivery cost to the US market.
Emmerson PLC investor relations video
Five Minute Pitch TV recently filmed Hayden Locke, CEO of Emmerson. He provides an investors overview of business in the video below – the interview focuses on Emmerson's operations, the geopolitical situation in Morocco, the global potash market and the companies forward strategy.
Emmerson PLC Investor Relations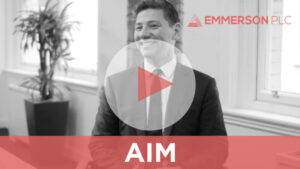 Click here to view Emmerson Investors Videos