Volex: Preliminary Results
"We continue to diversify our customer base and execute our strategy to be a stable, long-term and trusted partner to our clients. The recovery at Volex continues."
Volex plc ('Volex'), a global provider of power and data cabling solutions, today announces its preliminary results for the 52 weeks ended 31 March 2019 ('FY2019').
Financial Highlights
Revenue up 15.4% to $372.1m  (2018:$322.4m)
Underlying* operating profit up 87.8% to $21.6m (2018: $11.5m)
Statutory operating profit up 47.7% to $13.0m (2018: $8.8m)
Underlying* profit before tax up 108.2% $20.2m (2018: $9.7m)
Statutory profit before tax up 65.7% to $11.6m (2018: $7.0m)
Statutory profit after tax up 135.9% to $9.2m (2018: $3.9m)
Basic earnings per share up 56.8% to 6.9c (2018: 4.4c)
Underlying diluted earnings per share up 42.7% to 12.7c (2018: 8.9c)
Net cash (note 8) up 108.1% to $20.6m (2018: $9.9m)
* Before adjusting items and share-based payments charge (see note 3 for more details)
Summary
Revenue growth of 15.4% including $44.8 million contribution from acquisitions
Underlying operating profit increased by 87.8% to $21.6 million
Statutory profit after tax increased by 135.9% to $9.2 million
Net cash of $20.6 million as at the year end
Gross margin has improved to 19.8% in FY2019 from 17.4% in FY2018
Management expects to announce the reinstatement of a dividend at the time of the interim results in November 2019.
The Executive Chairman of Volex, Nat Rothschild, commented:
"Over the past year we have continued to deliver on our stated strategy to refresh our customer base and grow our business with both new and existing customers. This has resulted in a significant increase in profitability at Volex, and our group is now in a much stronger position than it has been for many years.
We have made three successful acquisitions during the year, which have added new customers, capability and geographic presence to the Cable Assemblies division. As we build scale in this division we believe that we have the capability to be a trusted global partner to our customers.
Cost inflation continues to be a common theme across all of the countries in which we operate and we are continuing to invest in automation across the group to mitigate this inflation. In addition, the effect of US import tariffs on Chinese production has resulted in Volex moving certain production capacity to alternative locations outside of China, which has resulted in additional administrative and investment costs for the group. In spite of these headwinds we have significantly improved our profitability in our core business, and I am pleased to report an 87.8% increase in our underlying operating profit.
Volex's core markets are expected to remain highly competitive in the near term but we remain focused on improving our business and our performance. Both our divisions occupy market-leading positions and are well placed through their unique geographic footprint.
There remain substantial identifiable opportunities for both divisions to improve sales and margin performance through disciplined execution of our strategy, in both the short and longer term, and we expect to deliver further value to our shareholders in the year ahead. I remain excited about the Company's prospects and our team continues to actively look for new opportunities to grow our business and technical capabilities."
Volex PLC Investor Videos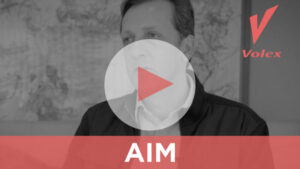 Click here to view Volex Investors Videos