HVPE: Final Results and investors video update
Tenth consecutive year of NAV growth
HarbourVest Global Private Equity Limited ("HVPE" or the "Company"), today announces its audited results for the year ended 31 January 2019. The have now seen 10 years of consecutive NAV Growth.  Five Minute Pitch TV filmed Sir Michael Bunbury and Richard Hickman, who provided an update on HVPE's financial and operational performance in the video below.
Harbourvest Global Private Equity Investors Video Update
Film Chapters:
Key performance indicators: 00:00 – 00:52
Performance breakdown (by country, stage & strategy):  02:10
Balance sheet & cash position: 02:10
Credit facility (recently re-negotiated):  02:57
New commitments: 03:45
Portfolio company metrics: 05:08
Chairmans summary – share buybacks: 05;37
Chairmans summary – board changes: 07:00
HVPE's statement follows:
All figures relate to the year ended 31 January 2019 and are presented in US dollars unless otherwise stated.
Another year of strong performance
Tenth consecutive year of growth in net asset value ("NAV") per share

In the year, 12.3% growth to $24.09
Annual compound growth of 12.2% over past decade
Since inception in 2007, NAV per share has outperformed FTSE All-World Total Return Index by 3.8% annually
$218m net gain on investments (2018: $249m)

Share price up 13.9% over year to £14.26 from £12.52
Since financial year end, up a further 14.2% to £16.28 (as at market close on 28 May 2019)
Active portfolio and balance sheet management:

$730m committed to new HarbourVest funds (2018: $340m)
Includes $150m commitment to a new HarbourVest real assets vehicle
Credit facility renegotiated, with improved financial terms

Net investor during the year:

$396.2m cash invested, $306.6m distributions received
Significant proceeds generated from prior year's top 50 companies including: Acrisure, Envirotainer International, Multiasistencia, TMF Group and Wayfair

Strong balance sheet:

Net cash of $157m (since reduced to $58m as at 30 April)
Undrawn $600m credit facility with initial term to January 2026.
Sir Michael Bunbury, Chairman of HVPE, said:
"I am pleased to report another year of strong progress for HVPE, marking the tenth year of uninterrupted growth in NAV per share.
"Through the life of the Company since it was listed in December 2007 to 31 January 2019, HVPE's NAV per share has outperformed that of the benchmark FTSE All-World Total Return Index by a compound 380 basis points, or 3.8%, per annum.
"Our capacity to invest for further growth is supported by a strong balance sheet and an established global portfolio that is well-diversified by strategy and vintage year. We ended the year with a net cash position and have secured an increased credit facility of $600m, committed to January 2026, on finer terms. The balance sheet strength allows the Company to be well placed to continue our long-term investment performance, taking advantage of high quality opportunities in private markets, for the benefit of our shareholders."
Harbourvest Investors Video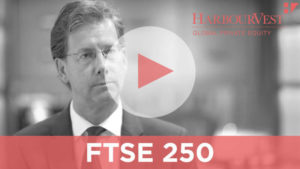 Click here for Harbourvest Investor videos and news