Board Changes
HarbourVest Global Private Equity Limited ("HVPE" or the "Company") today announces the following prospective Board changes in accordance with the Company's ongoing succession planning.
Brooks Zug, co-founder of HarbourVest and a Director of HVPE since 2007, has indicated that he intends to stand down from the Board and will not offer himself for re-election at the Company's Annual General Meeting ("AGM") on 25 July 2019.
HarbourVest Partners, LLC ("HarbourVest") has given notice that it intends to put forward Carolina Espinal, Managing Director in its Primary team, for election at the AGM as Zug's successor. Carolina joined HarbourVest in 2004 and is a member of its Primary Investment Committee which makes decisions on new commitments to primary funds worldwide. She previously worked for Merrill Lynch and holds a Masters in Finance degree from the London Business School.
Keith Corbin, after more than 11 years on the Board of HVPE as Senior Independent Director and as chairman of the Audit and Risk Committee, has also informed the Company that he will not be offering himself for re-election at the AGM in July. Keith has been succeeded as Senior Independent Director by Alan Hodson (effective 16 May 2019), who has been a Director since April 2013. Steve Wilderspin replaced Keith as chairman of the Audit and Risk Committee from 31 July 2018.
Sir Michael Bunbury, HVPE's Chairman since IPO in 2007, has also indicated his intention to retire from the Board at the AGM in July 2020. Independent consultants have been engaged to recruit his successor after a period of handover. Further information will be provided in due course.
Commenting on the proposed changes to the Board, Sir Michael Bunbury, Chairman of HVPE, said:
"It is almost impossible to overestimate Brooks Zug's contribution to the creation and success of HVPE. Similarly, Keith Corbin has been a rock of experience and stability since our IPO in 2007. On behalf of the Board and all shareholders I thank them both for their wisdom, energy and guidance.
"I will be very pleased to see Carolina Espinal join the Board, subject to shareholders' approval at the AGM, to represent HarbourVest. Her extensive experience and broad industry network will be invaluable to the Company and its shareholders.
"It has been a privilege for me to serve shareholders as Chairman of HVPE since the creation of the Company and it is proposed that I should continue to do so until such time as the Board appoints my successor ahead of the AGM in 2020."
Harbourvest Investors Video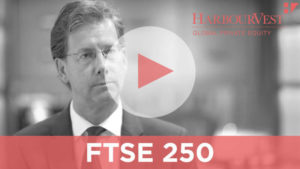 Click here for Harbourvest Investor videos and news