Allergy Therapeutics: Positive results from Phase I Acarovac MPL Study
Allergy Therapeutics plc continues to demonstrate the strength of its portfolio with the news today that a trial for its Acarovac house dust mite treatment was successful. The Phase I trial shows safety and tolerability results of subcutaneous Acarovac MPL (Monophosphoryl Lipid A) in patients with house dust mite (HDM)-induced allergic rhinoconjunctivitis. The AM101 trial was an open-label study to assess the safety and tolerability of Acarovac MPL in 16 adult patients with house dust mite-mediated allergic rhinoconjunctivitis.
The primary endpoint was the safety and tolerability of 7 injections of Acarovac MPL administered over 6-12 weeks each 1-2 weeks apart. The formulation was well tolerated. The safety profile was satisfactory and the reported adverse events were consistent with what have been observed with similar formulations of allergy vaccines.
Secondary endpoints included the effect of treatment on response to nasal provocation test (NPT), immunological parameters including immunoglobulins and patients' satisfaction with the treatment. A significant improvement from baseline in patients' total symptom scores following NPT after 12 weeks, and significant increases in immunoglobulin markers and reduction in IL-4 were observed. Patients reported high satisfaction with their treatment measured via the ESPIA questionnaire (Satisfaction Scale for Patients Receiving Allergen Immunotherapy).
Manuel Llobet, CEO of Allergy Therapeutics, said:
"The success of our clinical trial in house dust mite-induced allergic rhinitis is encouraging news for the many patients who continue to suffer with the symptoms caused by house dust mite allergy, and supports our ambition to provide a global therapy for the important US, China and EU markets. Based on the unique triple-combination of our allergoids, and the adjuvant system MPL and MCT we believe Acarovac MPL could build on our success in dust mite immunotherapy and we look forward to progressing towards phase II clinical studies."
Acarovac MPL is a subcutaneous immunotherapy product containing Dermatophagoides pteronyssinus and Dermatophagoides farinae allergoids adsorbed to the adjuvant system comprised of MCT® (Microcrystalline Tyrosine) and MPL.
Allergy Therapeutics Interim Results Video
Investor Meetings
Five Minute Pitch TV is run by FMP-IR Ltd, who organise investor roadshows for Allergy Therapeutics. Any professional investors wishing to meet the management  can contact us below:
Nicholas Peters, Head of Investor Relations
Mobile: +44 (0)7909 972 080
E-mail: nickp@fmp-ir.co.uk
James Mcilwraith, Head of TV
Mobile: +44 (0)7702 197 899
E-mail: jamesm@fmp-ir.co.uk
Allergy Therapeutics Investors Video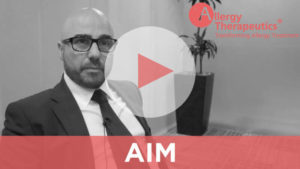 Click here to view Allergy Therapeutics investor video