Emmerson commences feasibility study at Khemisset potash project in Morocco
Emmerson Plc has today announced the commencement of a feasibility study at its wholly owned Khemisset Potash Project in Northern Morocco. The study will be carried out by  Golder Associates, who also completed the Scoping Study at Khemisset.
This study follows on from the successful completion of the Scoping Study in November 2018 which confirmed the potential for the asset to be a low cost, world class asset with the potential to deliver a post-tax NPV of US$1.14bn using independent industry analyst price forecasts. It is expected that the study will require 9 to 12 months to complete, with the board expecting release of results to the market in the first half of 2020. The Study will be divided into distinct work streams which will be released to the market as they are completed. As at the end of March, the Group had £2.3 million of cash remaining to complete the workstream.
Emmerson PLC investor relations video
Five Minute Pitch TV recently filmed Hayden Locke, CEO of Emmerson. He provides an investors overview of business in the video below – the interview focuses on Emmerson's operations, the geopolitical situation in Morocco, the global potash market and the companies forward strategy.
Hayden Locke, commentary on the developments
Hayden Locke, CEO of Emmerson, commented: "We continue to make strong progress at Khemisset thanks to the exemplary work and dedication of our team. This process has been able to be accelerated thanks to the significant historical work completed on the Project. The Board is encouraged by the outstanding results of the Scoping Study delivered in November 2018, which highlighted Khemisset's extraordinary potential, most notably a post-tax NPV10 of US$1.14 billion and confirmation of industry leading low capital cost requirements, which sets the Khemisset Project apart from its peers.
"In selecting Feasibility Study engineers, we conducted an extremely thorough and detailed tender process and were pleased with the level of interest from global engineering firms to work with Emmerson on the Khemisset Potash Project. The level of submissions the Company received was exceptional and Emmerson is delighted with the appointment of Golder, an outstanding, global, independent engineering firm with deep experience in the delivery of feasibility studies for complex mining projects.
"This commencement of the Feasibility Study marks the next significant milestone for the Company. We continue to progress the Project on the timelines we initially targeted and look forward to continuing to meet these expectations.
"We will continue to update our investors on the various operational and corporate activities we have underway as we progress with the development of this world class project."
Emmerson PLC Investor Relations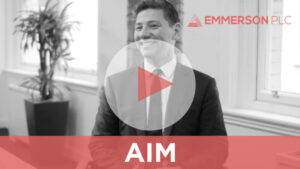 Click here to view Emmerson Investors Videos