C4X Discovery: Interim Results
30 April 2019 – C4X Discovery Holdings plc (AIM: C4XD), a pioneering drug discovery company, today announces its interim results for the six months ended 31 January 2019. We filmed an update video with CEO Clive Dix, available below:
C4XD Video Update – Interim Results
Operational highlights:
Partnering updates
Partnering process for oral NRF-2 activator programme launched

Commercial interest across multiple disease areas including, Chronic Obstructive Pulmonary Disease ("COPD"), Pulmonary Arterial Hypertension ("PAH") and Sickle Cell Disease ("SCD")

Indivior continues to progress C4X_3256 (Orexin-1 receptor antagonist)

NIH funded investigation of the effect of C4X_3256 in cocaine addiction efficacy models showing promising results with continued partner support
Discovery portfolio growth
Expansion of proprietary drug discovery portfolio continues

Portfolio contains eleven active discovery programmes, up from nine in 2018

Includes three late-stage programmes demonstrating in vivo activity

Significant expansion of early-stage discovery portfolio and capabilities during the period:

Two drug discovery partnerships announced, adding new programmes to the portfolio:

LifeArc®: to generate lead compounds on an inflammation/oncology drug target subject of multiple pre-clinical deals in the last 12 months
GTN Ltd ("GTN"): to identify potential small molecule hits against a neurodegeneration target

Exclusive target discovery partnership with Horizon Discovery Group plc (AIM: HZD, "Horizon") to validate novel, synthetic lethal oncology targets to initiate drug discovery programmes against

Continued development of protocol and capabilities to prosecute Taxonomy3® outputs with the aim of establishing a portfolio of targets suitable for multi-asset and single asset deals
Proprietary technology and commercialisation capability development
Prudent investment in expansion of drug discovery capabilities continues

Launch of Stage 2 of 4Sight, C4XD's proprietary molecular visualisation and design tool, in collaboration with Epic Games

Expansion of commercial-focussed resource
Fundraise
Successful fundraise of £10.1 million (before expenses) completed 9th October 2018, with a total of 11,210,674 shares issued to both new and existing investors
Financial highlights:
R&D investment was £4.9 million in the six months ending 31 January 2019, up £1.5 million from the £3.4 million in the six months ended 31 January 2018, reflecting progress across the portfolio
Cash, cash equivalents, short-term investments and deposits at 31 January 2019 of £9.2 million (31 July 2018: £5.6 million and 31 January 2018: £1.4 million)
Net assets at 31 January 2019 of £12.8 million (31 July 2018: £8.2 million and 31 January 2018: £5.5 million)
Dr Clive Dix, CEO of C4X Discovery, said:
"C4XD has continued to strengthen its drug discovery capabilities and advance its portfolio of novel pre-clinical assets this first half year. Having launched a partnering process for our NRF-2 programme, we are now in licensing discussions with pharmaceutical partners to take forward our lead series to clinical development. We are also excited to enter new partnerships with LifeArc, GTN, and Horizon which have enabled us to augment our discovery engine with technologies at the cutting-edge of drug discovery and accelerate the growth of our portfolio by accessing highly attractive earlier-stage therapeutic targets and chemistry. I would like to take this opportunity to thank our shareholders for their support and we look forward to continued success in the second half of the year."
For those who prefer youtube, we've posted a version below.
C4XD Investor update – Youtube
C4X Discovery Investor Videos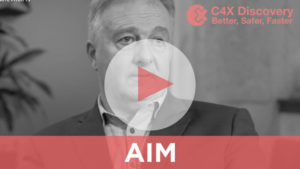 Click here to view C4X investor relations films