Allergy Therapeutics: Successful discussions with FDA, date set for Phase III Pollen Trial
Allergy Therapeutics gave the market a timely reminder today of the depth of its allergy vaccine portfolio. Despite the setback of its recent trial, the company has today announced that following the successful discussions with the FDA in the US and the PEI in Germany, plans are in place to go ahead with a Phase III Trial for its immunotherapy treatment in the prevention of the symptoms of allergic rhinoconjunctivitis caused by grass pollen. This will be in the second half of 2020 to coincide with the 2020/21 pollen season.
Not only that but the results of its Phase I Acarovac MPL trial for house dust mite allergies are due in Q2 2019. With regards to its Polyvac Peanut product,the Phase I first-in-human trial for Polyvac Peanut is now expected in H1 2020 as pre-clinical work is completed in advance of human dosing next year.
The Group is well funded with £31.6m in the bank as at 31 December 2018 and continues to grow its market share in Europe where its treatments are available on a named patient basis. Below is a film shot following the release of its interim results last month.
Allergy Therapeutics Interim Results Video
Investor Meetings
Five Minute Pitch TV is run by FMP-IR Ltd, who organise investor roadshows for Allergy Therapeutics. Any professional investors wishing to meet the management  can contact us below:
Nicholas Peters, Head of Investor Relations
Mobile: +44 (0)7909 972 080
E-mail: nickp@fmp-ir.co.uk
James Mcilwraith, Head of TV
Mobile: +44 (0)7702 197 899
E-mail: jamesm@fmp-ir.co.uk
Allergy Therapeutics Investors Video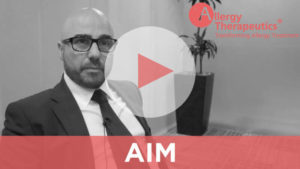 Click here to view Allergy Therapeutics investor video