Acquisition of Tescos Supermarket & Issue of Consideration Shares
Supermarket Income REIT (LSE: SUPR), the UK supermarket real estate investor, announces that it has acquired a Tesco Extra supermarket in Mansfield, Nottinghamshire, from the Charities Property Fund (CPF) for £45.0 million (net of acquisition costs), reflecting a net initial yield of 5.2%.
Developed in 2007, the nine-acre site is at a prominent roadside junction in the town centre. It comprises a 90,000 sq ft Tesco Extra, approximately 530 parking spaces and a 12-pump petrol filling station. It is being acquired with an unexpired lease term of 20 years with annual, upward-only, RPI-linked rent reviews (subject to cap and floor) on fully repairing and insuring terms. The next rent review is in March 2020.
The consideration for the acquisition includes £33.7 million in cash, funded from the proceeds of the £45.0 million equity placing on 22 March 2019, and the issue to CPF of 10,922,330 new Ordinary Shares in the Company at a price of 103 pence per share (the "Consideration Shares"). This issue price represents an 8% premium to the prevailing Net Asset Value per share. Consequently, the net yield on acquisition to the Company will be 5.3%. CPF has agreed various restrictions on any disposal of these shares over the next 12 months.
Application has been made for all of the Consideration Shares to be admitted to trading on the Specialist Fund Segment of the London Stock Exchange's Main Market for listed securities ("Admission"). The Consideration Shares will rank pari passu with the Company's existing ordinary shares, and Admission is expected to occur at 8.00am on or around 25 April 2019.
Immediately following Admission, the Company will have 239,833,219 Ordinary Shares in issue and therefore the total voting rights in the Company will be 239,833,219. This figure may be used by Shareholders as the denominator for the calculations by which they may determine whether or not they are required to notify their interest in, or a change to their interest in, the share capital of the Company under the FCA's Disclosure Guidance and Transparency Rules.
Ben Green, Director of Atrato Capital, the Investment Adviser to Supermarket Income REIT, said:
"This acquisition increases both the average unexpired lease term and the net initial yield of our portfolio. We are especially pleased to have been able to use Supermarket Income REIT shares as part consideration in a property acquisition for the first time. We believe there are many investors who own individual supermarket properties that would benefit from swapping their ownership into shares in Supermarket Income REIT, gaining our diversification and specialist management".
Supermarket Income REIT Video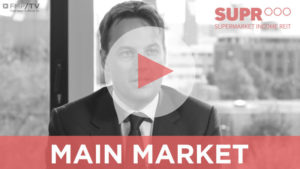 Click here to view Supermarket Income REIT investor relations films