iomart Group: another year of revenue growth
iomart Group plc (AIM: IOM) expects to deliver another year of revenue growth in a pre-close trading update announced this morning.
For the 12 month period ending 31 March 2019, the Group expects to report revenue growing to  c.£104m (FY2018: £97.7m), with adjusted profit before tax in the region of £25.3m up from £24m last year.
In the period the board has been focussed on reinvigorating the sales and marketing function to ensure the Group are maximising the full market opportunity. The fruits of this effort started to flow through in the latter half of the financial year with an increase in new lead generation from both potential and existing clients. This delivered a strong end to the year with a significantly larger pipeline of prospects than this time last year.
The Group maintains that the journey to Cloud adoption remains a long term trend and, subsequently the market opportunity is substantial and increasing. The Group continues to invest in the cloud product offering, skills and organisational platform  and the Board is confident that strong growth will continue in the future.
Investments in the second half
On 20 December 2018, IOM completed the acquisition of LDeX Group Ltd for an initial consideration of £7.5m, with a further maximum contingent consideration of £3.5m. LDeX provides datacentre and connectivity services in the UK from central London and Manchester locations. As well as bringing a new and diverse customer base to iomart, the two locations are complementary to the Group's existing infrastructure.
In addition, at the end of 2018, IOM purchased the freehold of the Maidenhead site for £5.4m. This investment, along with the extension of the London lease earlier in the year, and the LDeX acquisition, brings long term certainty to their datacentre infrastructure.
Notice of Results
The Group expects to report its results for the year to 31 March 2019 on Tuesday 11 June 2019.
Angus MacSween, CEO of iomart Group plc, stated:
"iomart has delivered yet another year of growth with strong profitability and cash flow underpinned by our recurring revenue business model, diverse customer base and attractive market position.
"The Group's large and building sales pipeline, combined with high levels of visibility and a significant market opportunity, leaves the Board very confident in the outlook for the new financial year, as well as the long term prospects for the Group. "
iomart Investors Video Overview
iomart Investors Videos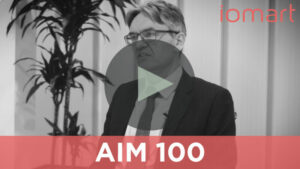 Click here to view iomart investor videos and news