Allergy Therapeutics announces increased revenues and growing market share
AIM-listed Allergy Therapeutics (LON: AGY) today released interim results. The Company, which researches and manufactures vaccines for a range of allergies, has increased revenues by 10.6% over the six month period to 31st December 2018. Revenues for the period were £46.7m, whilst pre-R&D operating profit increased to £15.7m from £12.3m in the corresponding period last year.
Allergy Therapeutics has a range of vaccines in various stages of clinical development. In the next 12 months we will see the results from last year's Phase III birch allergy trial as well as the Phase I house dust mite trial,  first in-human trials of the Group's polyvac peanut allergy vaccine, and perhaps most exciting of all, the commencement of a Phase III trial for the grass allergy product in the UK and the US. CEO Manuel Llobet and CFO Nick Wykeman provide an update in the video below.
Allergy Therapeutics Interim Results Video
Investor Meetings
Five Minute Pitch TV is run by FMP-IR Ltd, who organise investor roadshows for Allergy Therapeutics. Any professional investors wishing to meet the management  can contact us below:
Nicholas Peters, Head of Investor Relations
Mobile: +44 (0)7909 972 080
E-mail: nickp@fmp-ir.co.uk
James Mcilwraith, Head of TV
Mobile: +44 (0)7702 197 899
E-mail: jamesm@fmp-ir.co.uk
Allergy Therapeutics Investors Video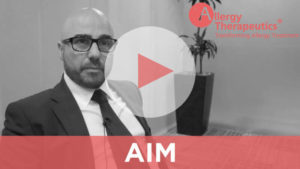 Click here to view Allergy Therapeutics investor video