Allergy Therapeutics: revenue growth, prepares for peanut allergy vaccine trial
AIM listed Allergy Therapeutics plc continue to grow revenues, which for the six month period ending 31st December 2018, were up 10.6% to £46.7m. In Europe, where the group's allergy vaccines are available on a named patient basis, there was especially strong sales growth in Germany, Austria, Switzerland and Netherlands. Despite regulatory change in Spain, where all bacterial products have been removed from the market, they have overseen strong growth there. In Germany, where Allergy Therapeutics  continues to gain market share, for the second consecutive year the group achieved number one position within their market  in October 2018, which is traditionally the biggest month of the year sales-wise.
The cash balance at the end of December 2018 was £31.6m (31 December 2017: £25.8m).
In the clinic, the company is preparing for its first in-human trials for the Polyvac peanut product. Simultaneously, data from the Acarovac Phase I trial is expected in H1 2019 along whilst the top line results of the PQ Birch Phase III trial are due to be be announced in Q1 2019.
Manuel Llobet, the Group's Chief Executive stated: "This is another period of revenue growth and continued gain in market share for Allergy Therapeutics, in line with our mid and long-term strategy. The Group is also making good progress across its clinical pipeline, with a number of key developments anticipated for the first half of this year. We see momentum in the business and look forward to updating the market at our interim results."
Allergy Therapeutics Investors Video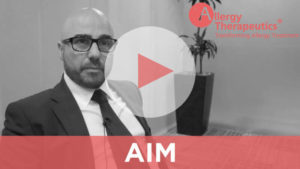 Click here to view Allergy Therapeutics investor video