C4X Discovery: Discovery partnership with GTN Ltd.
"C4XD enters discovery partnership with state-of-the-art artificial intelligence company, GTN Ltd."
Partnership to maximise insights from shape-based chemistry and generate novel drug candidates in neurodegeneration
C4X Discovery Holdings plc (AIM: C4XD), a pioneering drug discovery company, announces that it has entered into a drug discovery partnership with GTN Ltd. ("GTN"), a disruptive new player in the field of drug discovery artificial intelligence ("AI"), initially focussing on identifying potential small molecule hits against a high-value neurodegeneration target.
Artificial Intelligence is expected to revolutionise the drug discovery industry. GTN is at the forefront of the field, using deep-learning techniques and quantum physics to simulate, filter and search for molecules that are hidden from traditional technologies. However, over-simplistic representation of molecules is a key challenge for the application of artificial intelligence to problems of medicinal chemistry, resulting in suboptimal property prediction and thus results. In order to address this "representation problem", C4XD, using its conformational analysis platform Conformetrix, will provide GTN with world-leading molecular descriptors for use in its in-silico discovery platform. By combining both technologies, the collaboration will aim to unlock new areas of chemical space and identify novel small molecules.
This discovery partnership adds another high value programme to C4XD's portfolio. It represents continued progress against C4XD's strategy of accessing cutting-edge, high impact technologies through productive partnerships that will accelerate growth of its diversified portfolio of commercially attractive assets.
Dr Craig Fox, CSO of C4X Discovery, said:
"Strategic partnerships represent a critical component of our strategy and we are delighted to be collaborating with the team at GTN on this exciting project. Leveraging the clear synergies that exist between our Conformetrix platform and GTN's in-silico discovery technology, we aim to solve the representation problem and enable pioneering research into unexplored chemical space against a commercially attractive neurodegeneration target. We are looking forward to seeing the results of this project."
Noor Shaker, CEO of GTN, said:
"We are excited to be working with C4XD. This partnership is a great milestone for GTN as we expand the capabilities of our proprietary quantum machine learning platform. GTN will deploy its platform to discover novel, high quality chemicals and accelerate the discovery process. GTN's unique approach to quantum representation of molecules and advance machine learning plays very nicely with C4XD's molecular descriptors. It is a key component of GTN's strategy to form close collaborations with biotechs and pharmaceutical companies and we hope that this is the start of a growing relationship with C4XD. We are looking forward to a productive collaboration with C4XD."
C4XD Investors Overview
C4X Discovery Investor Videos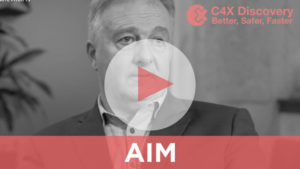 Click here to view C4X investor relations films