Ten Lifestyle CEO Alex Cheatle Updates Investors
Ten Lifestyle Group plc (LON:TENG) this morning announced their preliminary results for the year ended 31 August 2018, and provided a trading update. A video update from CEO Alex Cheatle is available below:
Ten Lifestyle CEO Alex Cheatle Updates Investors
About Ten Lifestyle
Ten lifestyle provide concierge services to the high net worth community. They partner with banks, wealth managers and finance providers who offer Ten's services to their clients. Tens services include premium access to luxury goods and travel. Below is an extract of operational and financial highlights from this mornings announcement.
Operational Highlights
Large contracts increased from 4 to 6 and Medium contracts1 increased from 11 to 18 in the Year
Seven new Medium or Large contracts won and launched in the Year, including Visa International, HSBC and OCBC Bank.
Two Small contracts have grown into Medium contracts in the Year.

Ten's enhanced proprietary digital platform

launched during the Year in all three global regions.
£10.5m spent on proprietary digital platform, communications and technologies.
Member satisfaction improved in all three global regions.
Admitted to AIM in November 2017.
Financial Highlights
Net Revenue2 up 13% to £37.4m (2017: £33.2m).

Growth in the first half of the Year followed by a marked increase in the growth rate as the Year progressed.
Especially strong growth in APAC3 (43%) and good growth in the Americas (16%)
Net Revenue flat in EMEA4.

Adjusted EBITA5: -£3.9m (2017: +£1.7m) reflects significant investment in technology, investment in new markets and international roll out.
Adjusted EBITA margin: -10.4% (2017: +5.1%).
Strong cash position of £20.7m, following £25.1m raised at IPO.
Ten Lifestyle Group Plc Investors videos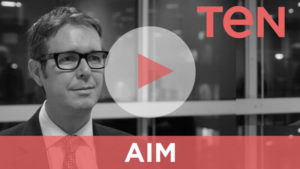 Click here for Ten Lifestyle Group investor videos