C4X Discovery: Discovery partnership with LifeArc
"LifeArc and C4X Discovery join forces to develop small molecule drug candidates active against a high value, novel oncology and inflammation target"
C4X Discovery Holdings plc (AIM: C4XD), a pioneering drug discovery company, announces that it has entered into a discovery partnership with LifeArc®, one of the UK's leading medical research charities. C4XD and LifeArc will join forces to progress medicinal chemistry efforts on a novel, commercially attractive programme with applicability across oncology and inflammation indications. The undisclosed target originated from LifeArc's extensive partnerships in early-stage academic research.
The partnership will combine leading drug discovery expertise from both organisations, including application of C4XD's unique and proprietary ligand-focussed conformational analysis platform, Conformetrix, to LifeArc's extensive background and experience in the programme. The aim is to develop oral, potent and selective small molecule drug candidates against the undisclosed target suitable for pre-clinical out-licensing to a clinical development partner and, ultimately, to deliver a novel treatment in an area of high unmet clinical need.
This discovery partnership adds a high value programme to C4XD's portfolio. Furthermore, it demonstrates continued progress against its stated strategy of utilising its cutting-edge drug discovery engine, and establishing productive partnerships, to develop novel small molecules against targets with high partnering interest.
Terms of the agreement are undisclosed.
Dr Clive Dix, CEO of C4X Discovery, said:
"LifeArc is a highly-respected medical charity with access to world-leading academic research for conditions where there is a clear need for new treatments coupled with deep experience in drug discovery. This partnership not only demonstrates the potential of our Conformetrix platform, it also highlights our strategic approach of accelerating towards a diversified portfolio of pre-clinical assets for out-licensing. We are delighted to be working with the LifeArc team and look forward to a successful outcome and continuing to build on our strategic relationship."
Dr Justin Bryans, LifeArc's Executive Director, Drug Discovery, added:
"LifeArc is delighted to partner with C4XD. Our new partner's expertise in the rapid design and analysis of novel small molecule therapeutics complements LifeArc's drug discovery expertise. C4XD's focus on diseases with high unmet medical need is entirely in line with our objective of ensuring that innovative life sciences technologies progress along their development pathway towards the patients who so desperately need them."
C4XD Investors Overview
C4X Discovery Investor Videos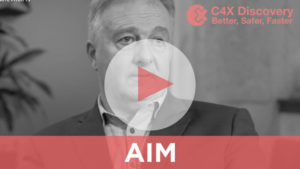 Click here to view C4X investor relations films