Allergy Therapeutics continues to grow market share
Allergy Therapeutics plc continued to take market share from its competitors and grow revenues, in its AGM update announced this morning. In the key European market, growth in the German market was particularly strong.
In the clinic the Company is preparing for the upcoming PQ Grass Phase III trial that can allow for US registration. An end of Phase II meeting with the FDA in the US has now been confirmed for January 2019 with sound progress being made regarding the Phase III trial protocol. In Europe, top line results from the PQ Birch (B301) Phase III trial for Europe are now expected in First Quarter 2019. Results of the AGM voting will be announced later today.
Manuel Llobet and Nick Wykeman updated investors with Five Minute Pitch TV in September, and the film can be seen below.
Allergy Therapeutics Investors Update
Allergy Therapeutics Investors Videos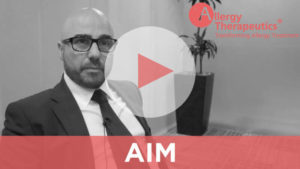 Click here to view Allergy Therapeutics investor video