Spirent Communications: CEO Eric Hutchinson to retire in 2019
FTSE 350 Spirent Communications this morning announced that Chief Executive Eric Hutchinson is to retire in 2019. Eric will stay in his post until a replacement is found and a transition period has been completed.
The group also announced a Q3 trading update this morning which showed solid growth compared to the same period in 2017.
Spirent Communications Plc provide network testing, performance analysis, service assurance and security for a range of major global customers. They have over 1,500 customers worldwide. Below is an video overview of the group featuring Eric Hutchinson. We filmed it last year, but it still provides a useful overview of the group.
Spirent Communications Investor Video Featuring Eric Hutchinson
Spirent Investors Video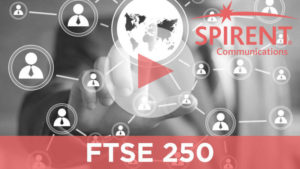 Click here to view Spirent investor relations films