What causes allergies? An overview from Manuel Llobet
Video: What Causes Allergies? An overview from Manuel Llobet
The rise in Allergies
Since the 1960s, the incidence of allergic disease in Western countries has progressively increased.  Within Allergic Rhinitis the epidemiological numbers are between 20-30% incidence, with the ratio varying between countries.
There are a number of theories as to what is causing this trend: the Hygiene Hypothesis and Dysbiota imbalances being the two most recognised. The Hygiene Hypothesis contends that Allergies are in part caused by overly clean environments: a lack of exposure to infections increases the incidence of autoimmune and allergic diseases. In other words, the body stops learning how to fight infections and viruses, which in turn leads to an increased risk of allergies.
The second theory Dysbiosis describes microbial imbalances within the body. Dysbiota is caused by impaired Microbiota, often as the result of poor and unvaried diets. Over-use of Antibiotics is another potential cause. It is argued that Dysbiosis leads to an increase in the incidence of allergies.
We filmed Manuel Llobet, CEO of Allergy Therapeutics (LON:AGY), discussing the causes behind the rise in Allergies.
Allergy Therapeutics are tackling the problem of Allergies, and currently distribute products in Europe. With a turnover of £68 million,  they have a large pipeline in various stages of clinical development.  Indeed, several of their products and formulas are in phase I II and III trials. Products on sale and in development range from those which provide immunity to pollens, dust mites, peanuts, birch and grass.
Their products provide a disease modifying outcome, rather than treating the symptoms. Another benefit is that their products are ultra short course. In other words, the products provide immunity and don't require long periods for treatment.
Investor Meetings
Five Minute Pitch TV's parent company (FMP IR Ltd) handle investor relations for Allergy Therapeutics, organising meetings between the company and UK based professional investors. The cities we visit with Allergy Therapeutics include Edinburgh, Glasgow, Leeds, Manchester, Birmingham, London and the South East. Please contact Nick or James if you would like to meet with Allergy Therapeutics:
James Mcilwraith
Mobile: +44 (0)7702 197 899
E-mail: jamesm@fmp-ir.co.uk
Nicholas Peters
Mobile: +44 (0)7909 972 080
E-mail: nickp@fmp-ir.co.uk
Allergy Therapeutics Investors Videos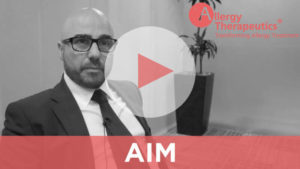 Click here to view Allergy Therapeutics investor videos