Nicola Foulston: from Brands Hatch to disruptive law firm Rosenblatt
Nicola Foulston became a prominent business figure early in her career. She became CEO of the infamous racing circuit Brands Hatch in  1989. When she joined, the group had a valuation of £6m. She sold the business  to Interpublic for £120m in 1999. Over 10 years Nikky Foulston had transformed Brands Hatch from a small but loved British gem, to the largest motorsport operator in Europe. After 6 years in private equity, she has returned to another hands-on role as the CEO of Rosenblatt Solicitors.
Shortly after joining Rosenblatt, she took the company public, listing it on London's AIM stock exchange.  The flotation raised £43m with a valuation of £76m. Early institutional investors included Blackrock and Fidelity. The stock is now held by  a number of retail investors, and has gained traction with the UK's wealth management sector: Killik & Co, RC Brown, Fiske and Pilling & Co are currently shareholders in Rosenblatt Group PLC.
Group revenues have grown under Nicola's stewardship. The group announced increases in both revenue and adjusted EBITDA in maiden results this September – EBITDA grew to £1m from 0.9m the previous year.  Rosenblatts' expertise ranges from dispute resolution to IP advisory across all sectors and they will soon be expanding into litigation funding with the creation of a subsidiary called Rosenblatt Litigation Funding Ltd. The subsidiary has secured it's first case under a damages based agreement, and is in the process of on-boarding two further cases.
Rosenblatt Investor video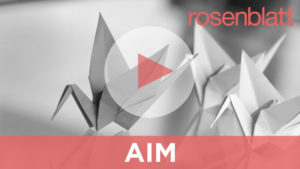 Click here for Rosenblat Investor Relations Video