What Is An Omnichannel Supermarket?
What Is An Omnichannel Supermarket?
The retail landscape is changing rapidly. The sector shifted from local stores towards out of town supermarkets in the 1980's. Now the trend is for shoppers to use online shopping rather than visit the stores. Indeed, between 2010-2016 the number of people buying groceries online more than doubled.
Some supermarket properties could benefit from this trend. These are the stores which provide a critical function in the online process. Supermarket chains use their existing stores to fulfil the last mile delivery. They have to do this, as many of the goods they are delivering are fresh.
Within a supermarket's real estate portfolio, a small percentage of stores will provide goods and delivery capacity for online orders. These are the omnichannel stores, selling goods via a number of channels: in-store shopping; click and collect;  and online deliveries.
It's not public knowledge which stores perform the ominchannel role. Indeed,  Supermarket Income REIT claim to be the only firm with a database of all ominchannel stores in the United Kingdom. The trust, who trade under the ticker LON:SUPR, believe that traditional in-store shopping is on the decline. They also believe that omnichannel supermarkets will thrive. These stores will be increasingly important to supermarket chains as online grocery shopping grows.
About Supermarket Income REIT plc
Supemarket REIT are a real esatate investment trust, and listed on London's main stock market.  They acquire omnichannel stores, and rent them back to the likes of Sainsburies, Tesco's and Morrisons (Asda). The group have long leases with these clients. This allows for a target dividend of 5.5p in a market which could benefit from any growth in the property sector.
A typical deal structure is exemplified by their recent acquisition of Sainsbury's Omnichannel supermarket in Ashford, Kent. The site was acquired for just over £80m in 2017,  and has a passing rent of £3.8m, It's a lengthy contract with an RPI uplift, and a lease expiring in September 2038.
Former Goldman partners Steve Windsor and Ben Green run the trust. Steve was at Goldman's for 16 years, reached partner level and was on their risk committee. Before joining, Ben was a Managing Director in Structured Finance. Nick Hewson Chairs the fund.  He founded Grantchester Holdings plc and serves as a Non Executive Director for FTSE 250 Redrow.
Five Minute Pitch TV produced a film which further explains what Omnichannel Supermarkets are. The film also explains Supermarket Income REIT plc. The video can be found on SUPR's company wall, which is available here
Supermarket Income REIT Video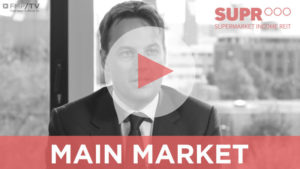 Click here to view Supermarket Income REIT investor relations films